Residential Bathroom Remodeling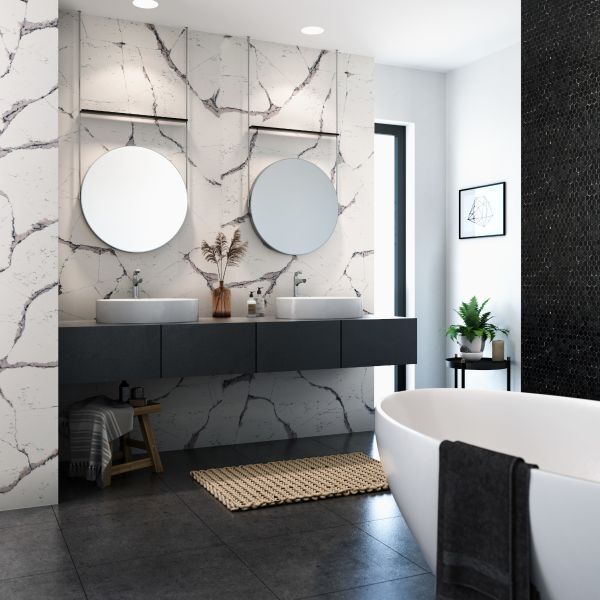 Expert Bathroom Design, Construction and Remodeling in Melbourne Florida.
If you are considering a bathroom remodeling project, our team of designers can help. We have several designers on our staff that know how to help you create a bathroom that will become your sanctuary. The bathroom of the home needs to be a calming place where you can relax and unwind as you like. In many homes, there are two to three bathrooms that can require remodeling help. We have worked on homes of all ages and sizes, from North Brevard County all the way to Port St Lucie, FL.
We'll Help you Create the Bathroom of Your Dreams
A bathroom remodel project can consist of a full gut or a few simple and minor changes. Depending on what you wish to do, the bathroom can be completely transformed or changed just enough to make a noticeable impact. A full bathroom remodel involves a lot of work and design making. From the flooring to the bathroom vanity and countertop, to the tub and/or shower, there are decisions to be made! As the homeowner, you may quickly become overwhelmed as to the number of decisions you need to make in just a short amount of time.
It can be overwhelming to choose new items for the space where there is so much to review. With our team of design experts, we can help with the decision-making process. We can provide you with catalogs of top manufacturers who specialize in bathroom items. With these catalogs, you can break down the process in sections. Find a tub you like, then move on to the vanity and countertop, and so on and so forth. This also allows you to easily keep track of the items you like and see how well they come together.
WE HAVE DESIGN OPTIONS FOR EVERY STYLE
If you have a design style that you particularly like, such as modern or traditional, our team of designers can show you items that meet a particular design style. This will help you to achieve the overall look you are going for instead of having mismatched items.
For many homeowners, it can be hard to visualize what works well together. Our designers know how to pull together a space that is cohesive and designed well. We can configure bathroom layouts that work well, easily revamping a space that is odd. In older homes, the bathrooms are often tiny or configured poorly. Once we review your existing space, we can create a bathroom layout that works better, providing privacy and usability. Living with an uncomfortable bathroom never works. With our help, we can design a space that will be comfortable and function as you need it to.
An example of this can be the location of the toilet or a single sink vanity. With growing families, you need the bathroom to work well. A toilet that is in an odd position can make it difficult to use. Moving the toilet to a private location, perhaps away from the door, will be helpful in creating a more user-friendly bathroom space. With a double vanity added, more people can use the bathroom at once, which is always beneficial!
Is it time for a new bathtub or shower stall?
From our experience, there are a number of indicators that it is time to replace your bathtub or shower stall.
These include:
a) The walls around the tub or shower have water damage, mold, or other signs of deterioration.
b) There are cracks in the surface caused by age.
c) You notice any leaks coming from behind pipes that will require extensive repairs.
d) The plumbing connections need replacement and/or significant repair.
e) Bathroom remodeling experts advise against using tile on top of an old cast-iron pipe because this can weaken its structural integrity over time.
f) After more than 30 years, ceramic tiles start to lose their durability and strength.


What is the Best Flooring for Bathrooms?
Believe it or not, your bathroom is one of the most important rooms in your home. A basic necessity for everyday convenience, bathrooms are a key feature of any home whether you're in it for the long-haul or considering resale. So, it's no surprise that when it comes to remodeling, even more so than when initially purchasing a home, bathrooms are typically near the top of the priority's checklist list.
The most popular choice of flooring for bathrooms is tile. Specifically, ceramic, glass and porcelain tiles are great options for bathrooms. Tile flooring is resilient, waterproof, available in a variety of colors and designs, and generally less expensive than other hard surface options. Porcelain tiles specifically absorb less water than any other ceramic product on the market. Ceramic and porcelain can handle even pools and puddles of standing water, which makes them great options for shower tile.
Tile does have some features that are often perceived as "cons" by some buyers. Tile is a hard surface, so it's often called "hard" or "cold" or even "sterile". While it's true that standing for extended periods of time on tile can be uncomfortable, that is true for any hard surface, and temperature of the floor can be addressed as porcelain and ceramic both work well with radiant flooring systems. As for sterile, that's great! Tile doesn't absorb water and germs and cleans easily, which makes it a great option for sterile environments.
Schedule a Free Consultation
At East Coast Construction SD, we enjoy helping homeowners bring their dreams to reality. From the first blueprint to the final touches, we will guide you through every aspect of the design process to make sure you get what you want. Contact us today to schedule a free consultation - call 321-676-8972. We look forward to hearing from you!