Residential Bathroom Remodeling and Design with 3D Rendering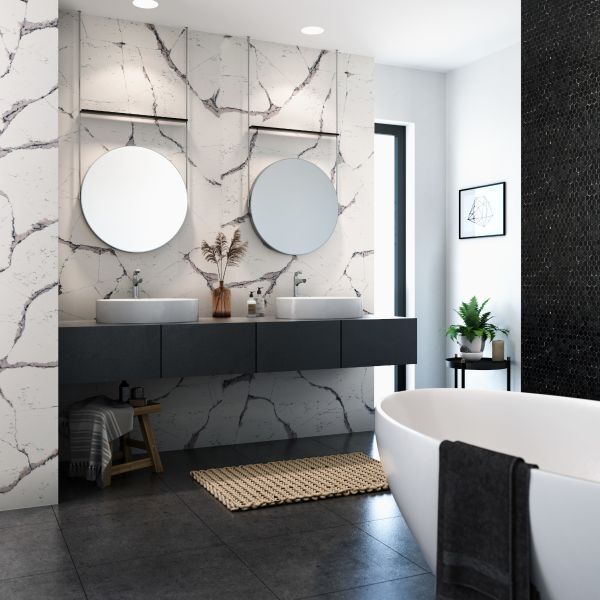 Expert bathroom design and remodeling in Melbourne & Port St Lucie, Florida.
If you are considering a bathroom remodeling project, our team of designers can help. We have several designers on our staff that know how to help you create a bathroom that will become your sanctuary. The bathroom of the home needs to be a calming place where you can relax and unwind as you like. In many homes, there are two to three bathrooms that can require remodeling help. We have worked on homes of all ages and sizes, from Melbourne all the way to Port St Lucie, FL. If you live in an older home, you can easily remodel the bathroom space to have a new, modern look.
We'll Help you Create the Bathroom of Your Dreams
A bathroom remodel project can consist of a full gut or simple changes. Depending on what you wish to do, the bathroom can be completely transformed or changed just enough to make a nice impact. Have you been dreaming of remodeling your bathroom? If so, the team at East Coast Construction SD can help. A full bathroom remodel involves a lot of work and design making. From the flooring to the bathroom vanity and countertop to the tub and/or shower, there are decisions to be made! As the home owner, you may quickly become overwhelmed as to the amount of decisions you need to make.
It can be overwhelming to choose new items for the space where there is so much to review. With our team of design experts, we can help with the decision-making process. We can provide you with catalogs of top manufacturers who specialize in bathroom items. With these catalogs, you can break down the process in sections. Find a tub you like, then move on to the vanity and countertop. You can easily keep track of the items you like and see how well they come together.
We Have Design Options for Every Style
If you have a design style that you particularly like, such as modern or traditional, our team of designers can show you items that meet a particular design style. This will help you to achieve the overall look you are going for instead of having mismatched items.
For many home owners, it can be hard to visualize what works well together. Our designers know how to pull together a space that is cohesive and designed well. We can configure bathroom layouts that work well, easily revamping a space that is odd.In older homes, the bathrooms are often tiny or configured poorly. Once we review your existing space, we can create a bathroom layout that works better, providing privacy and usability. Living with an uncomfortable bathroom never works. With our help, we can design a space that will be comfortable and function as you need it to.
An example of this can be the location of the toilet or a single sink vanity. With growing families, you need the bathroom to work well. A toilet that is in an odd position can make it difficult to use. Moving the toilet to a private location, perhaps away from the door, will be helpful in creating a more user-friendly bathroom space. With a double vanity added, more people can use the bathroom at once, which is always beneficial!

Schedule a Free Consultation
At East Coast Construction SD, we enjoy helping homeowners bring their dreams to reality. From the first blueprint to the final touches, we will guide you through every aspect of the design process to make sure you get what you want. Contact us today to schedule a free consultation - call 321-676-8972. We look forward to hearing from you!