Make your kitchen fit your Lifestyle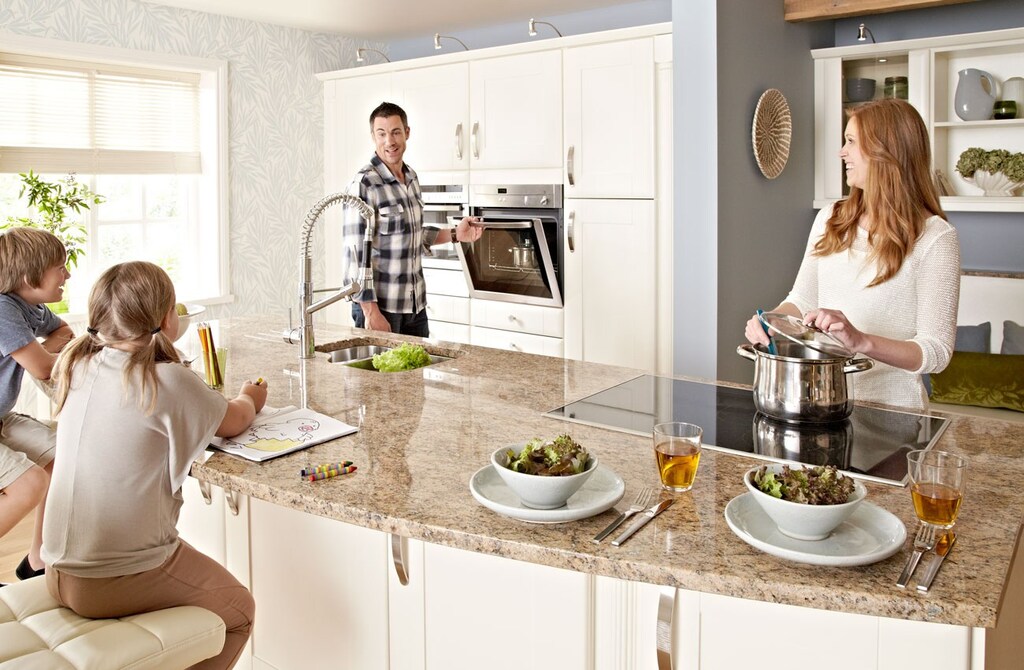 Making a Kitchen to Fit Your Lifestyle
Kitchens today are a hub for activities unrelated to cooking. The average adult sleeps and works up to 16 hours per day, so what about the other 8 hours? In most cases the whole family can be in one space while doing separate things, such as cooking, working at the dining table, or relaxing on the sofa. There are no questions that open-plan layouts are becoming more apparent in homes for easy family living, so kitchens must be designed for who will use them and how they live their daily lives, instead of just for looks. Combination rooms are becoming more apparent within family homes, from a home office within a living room to a kitchen diner; these spaces should be well designed and able to utilize the best of the overall room in their function. A kitchen may have the most beautiful cabinets, advanced technological appliances, and high-end countertops, but if the layout does not meet the needs and daily lifestyle of a family, nothing matters.
Questions to Ask Before Getting Started
How many children do you have? Age? • Who host family gatherings? How large?
Are pets frequent in the kitchen? • How many members cook at one time?
Do children prepare their own food? • What are the "roles" of the kitchen?
How does each family member use your kitchens • What is your daily life like in the kitchen?
Function Makes the Difference When Remodeling Your Kitchen
While entertainment-based kitchens can be outfitted for everyday family life, some households focus on kitchens that are used for far more than just cooking. The layout and function of a kitchen should enable smooth traffic patterns and allow for anyone to feel comfortable navigating throughout. Creating some form of central gathering area is essential for family kitchens. An island is the ideal solution as it can provide a natural feeling break between practical areas of the kitchen. Perfect for the whole family to gather around to work, cook, entertain, and enjoy each other's company.
While no two kitchens will ever be the same, there are general guidelines that apply to every kitchen. The work triangle is an important design concept that improves a kitchen's functionality by minimizing walking distance between the sink, refrigerator, and primary cooking surface. For comfort and safety, the sum of the three distances should be no more than 26 feet, and each stretch of the triangle should measure between 4 and 9 feet, even with small kitchen floor plans. If two or more people cook at the same time, plan triangles for each cook. These triangles might share one leg, but they should not cross each other.
The most important rule is the one that applies to all home cooks: You need three separate counters, and they should be about four feet long, call it the 3x4 Rule. Having three separate counters; one dedicated to each phase of the cooking process; means you don't have to place cooked food on spaces that just held raw meat, and dirty mixing bowls don't crowd out just-cut fresh produce. Your kitchen is optimized for efficiency at all stages of cooking. At four feet, a counter still ensures that everything is roughly within a comfortable arm's reach for a standing adult positioned at the center. Depth also depends on your reach; taller cooks have a couple inches on shorter cooks but stick around two feet and you should be fine. The key is to remember that you're generally not going to use parts of a counter you can't reach simply by extending an arm. If possible, the counters should be arranged so that the ingredients and tools you need most often are closer than everything else. If you're mostly a baker, you'll be glad you have your cabinet of flours and sugars right next to your mixing counter, and pots and pans can afford to live toward the outskirts.
Contact the Team at East Coast Construction SD
Having a guide during the kitchen remodeling and design phase is essential. Let our team at East Coast Construction SD get started helping you begin your journey to a new kitchen. With professional help, you can make decisions that will meet your design desires and create a kitchen that you genuinely love and are proud of. Don't try to plan alone. Have our designers provide the much-needed assistance to make the process more enjoyable and simpler! Learn more about what we can do for you - call us today at (321) 676-8972.